by admin on Jun.03, 2012, under Tsem Tulku Rinpoche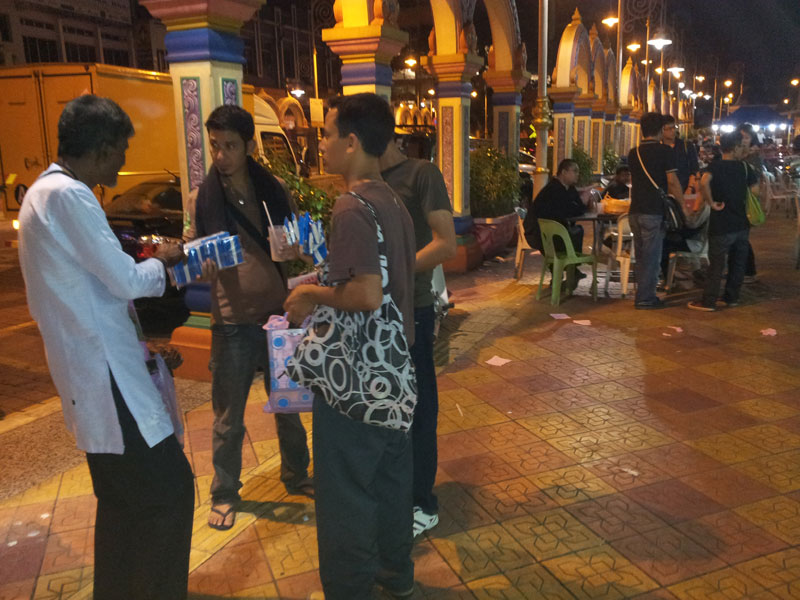 Just came back from a nice night out with Rinpoche and the Nepalese boys in Brickfields. Rinpoche wanted to buy a tonne of DVDs for them to bring back to Nepal, so their families will know that we're taking care of their sons, that we appreciate them sending their kids over to work with us, and they will be happy that their sons are doing well.
It was 1:45am when we saw a skinny, old handicapped man still hobbling the streets trying to sell his tissue paper for a pittance.
Rinpoche said wherever we are in the world, if we see a handicapped person selling things, just buy from them. Never mind stories about them cheating people – on your end, practice compassion. Who would ever want to be in their situation, cheating or not? At the very least, they're not begging and they're trying to "work".
So in his kindness, Rinpoche asked us to buy up all of his tissue paper so the man can just go home.
The man was so happy, he couldn't stop smiling. We hope he rests a little better tonight.
Rinpoche always does this, watch the videos here:
http://www.youtube.com/watch?v=Es1Olg8yu2g
http://www.youtube.com/watch?v=N2ocer74xkw
1 Comment
more...