by admin on May.23, 2012, under Tsem Tulku Rinpoche
On the evening of May 19, TsemRinpoche went to perform funeral rites for Mama Mooi Lan. Mama Mooi Lan wasRinpoche's long-time Dharma friend who had helped Rinpoche a lot when Rinpochefirst came to Malaysia. Together with a few Dharma friends, Mama Mooi Lanorganized to rent and sponsor Rinpoche's apartment rental back then, besides,they also sponsored Rinpoche's phone bills and other necessities despite nothaving much themselves. Mama Mooi Lan and the group of Dharma friends were veryhelpful and kind and never asked for anything back, and Mama Mooi Lan's family arealways very supportive of what she did.
After the rituals, Rinpoche sat downwith the family and had a heart-to-heart talk with them. Rinpoche told themthat he appreciated Mama Mooi Lan's kindness and help all these while, andsince Mama Mooi Lan had done a lot of Dharma work in her life, she will havegreat merits to take a very good rebirth, so Rinpoche repeated to the familynot to worry for Mama Mooi Lan, although it is understandable that everyone willbe sad because they missed her, she will definitely be alright.
Rinpoche then asked his assistantsto arrange for pujas to be done in the monastery for Mama Mooi Lan, and alsoinstructed the Kechara puja team to go later that night to perform puja forMama Mooi Lan (see pics below), as well as for a few Kechara pastors to bepresent on the next day during the cremation ceremony.
Rinpoche then contributed a sum ofmoney for the family for the funeral, not that the family needed it, but out ofgreat appreciation for Mama Mooi Lan and the family's kindness all these years,especially in the beginning years when Rinpoche first came to Malaysia and hadnot much money and help. Rinpoche also gave a nice Manjushri pendant to the granddaughterso that Manjushri can bless her. The family were very touched by Rinpoche'skindness and kept thanking Rinpoche for coming and doing all those for MamaMooi Lan and the family. Rinpoche left the funeral parlour at around 7pm.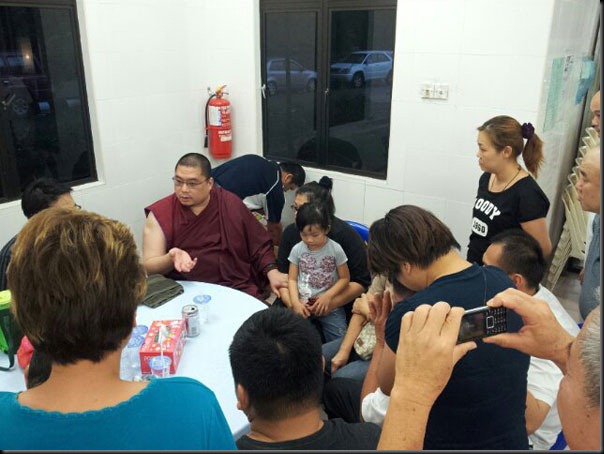 Rinpoche talking to the family and comforting them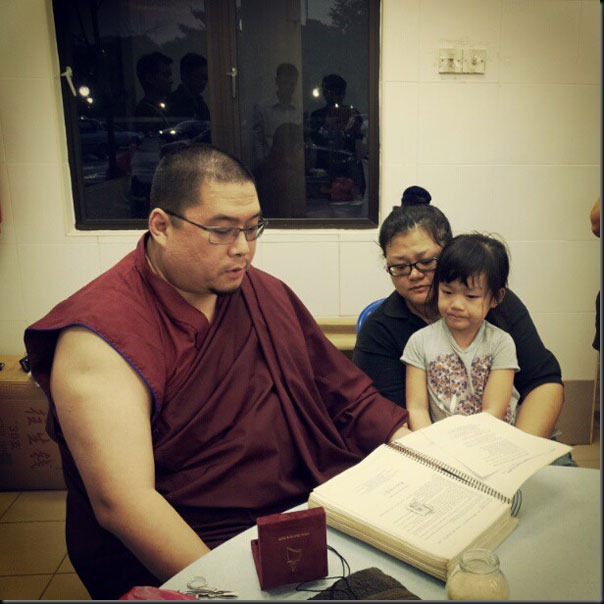 Rinpoche reciting prayers for Mama Mooi Lan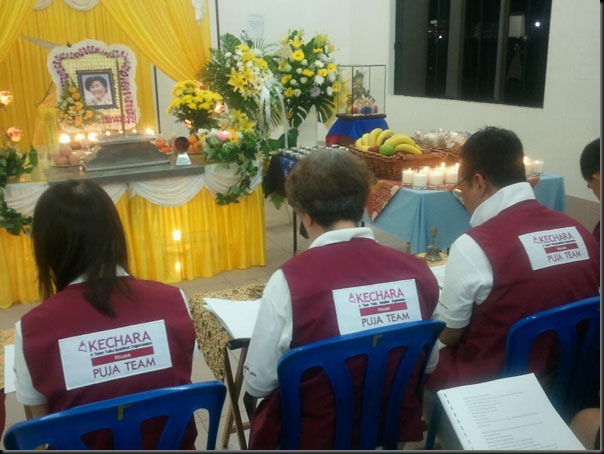 Kechara Puja team performing prayers for Mama Mooi Lan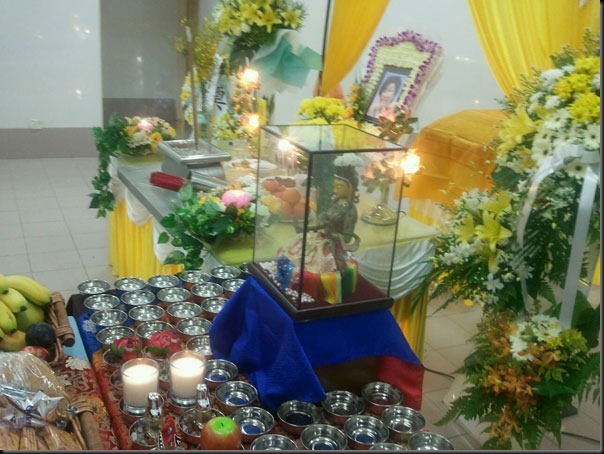 Later that night at around 4am, Rinpoche had finished all his sadhana of the day and was getting ready to rest, but I received an emergency call from one of Rinpoche's long-time student A, A was seemingly in a distraught state because his wife just had a miscarriage of a 3-month old baby, they were still at the hospital and A did not know what to do, so I informed Rinpoche, and without hesitation, Rinpoche said we had to go to help and give support to A and his family. A few liaisons and assistants were still awake then, so Rinpoche gave instructions to prepare a few things and we went to University Hospital at around 530am in the morning together with Pastor Susan, Pastor Yekyee, Lew, Jean Mei and Bryan.
A and his wife were fine but were distraught, that was their first child. Rinpoche sat down with them and comforted them and asked the assistants to prepare warm food and drinks for the couple and the mother, as they were hungry and thirsty but had no time to eat the whole night because of what happened, while the others helped to settle the administration part with the hospital. Rinpoche advised to go back to the couple's apartment to do a ritual for the baby. So after everything was settled in the hospital, we all left, and before going up to the apartment, Rinpoche went to a convenience store and buy baby products to put  around the baby together with some rose petals, then in the apartment Rinpoche did a puja and black tea to Protector Setrap asking Protector to lead the baby's mind to a good rebirth.
Rinpoche also gave the baby a name "Tashi"which means good luck, and comforted the couple and the mother that although the baby did not live, it is a good thing that the baby came to them for a few months and was able to be sent away under the blessing of Dharma, Rinpoche told the couple repeatedly that they did nothing wrong, and wish them good luck again.
Rinpoche also asked Bryan to find out about cremation procedure from a few funeral houses, and after deciding on one, Rinpoche told the couple that he would sponsor the cremation service, and part of the ashes will be put in the Vajrayogini stupa in Kechara's retreat center later, and the other part will be given back to the couple in a small glass stupa which the assistants had kindly arranged.
The couple and the mother were very grateful for what Rinpoche did for them at a time when they were vulnerable and helpless, and thanked Rinpoche profusely out of deep appreciation for Rinpoche's kindness. Rinpoche then wished them well and parted with them, while Bryan and Jean Mei stayed back to arrange for the cremation which was scheduled at 11am that same day. It was around 830am when Rinpoche left the apartment.
That day's events were just a small example ofRinpoche's great compassion, which is unconditional, no matter what time it is and how tired Rinpoche is, as long as another sentient being needs help, Rinpoche will always go all out to help them, selflessly. That is the true compassion of Tsem Ripoche.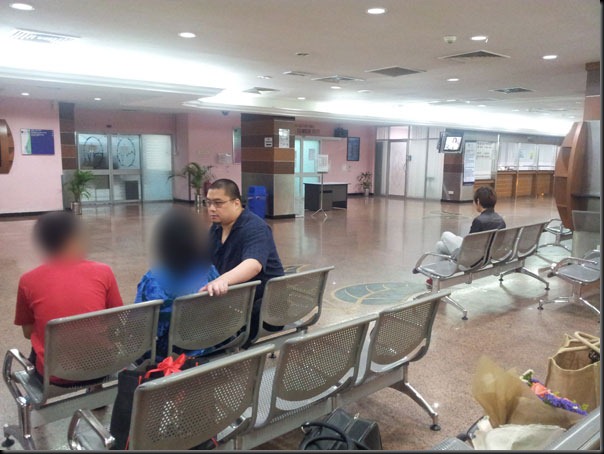 Rinpoche went to hospital at 5am to help the couple and give them support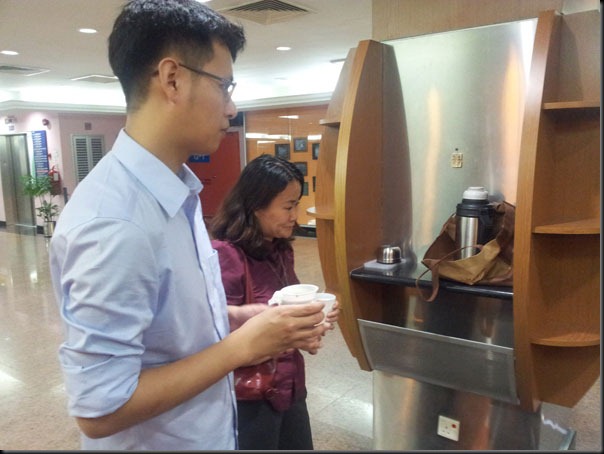 Pastor Yekyee and Bryan preparing food and drinks for the couple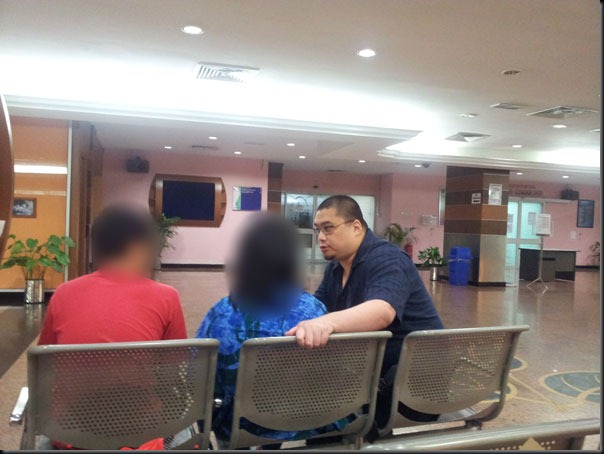 Rinpoche placing baby products and rose petals around baby Tashi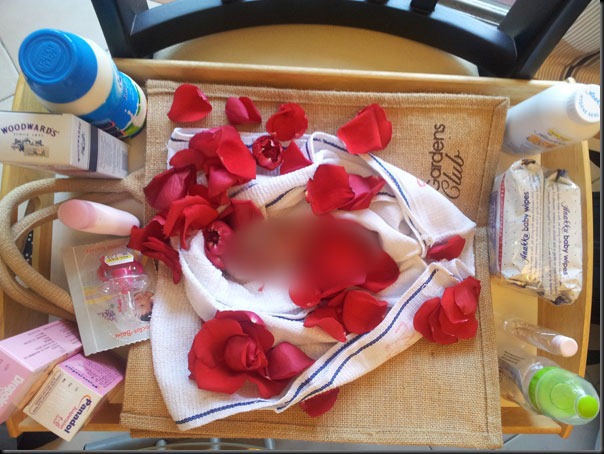 baby Tashi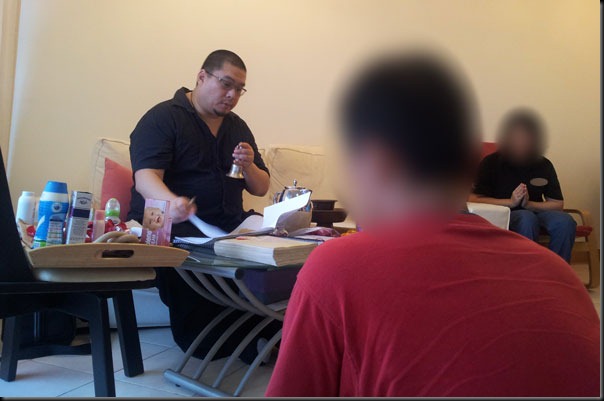 Rinpoche performing puja for baby Tashi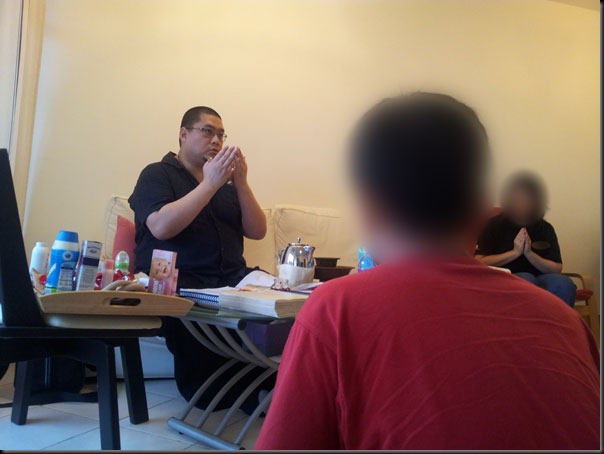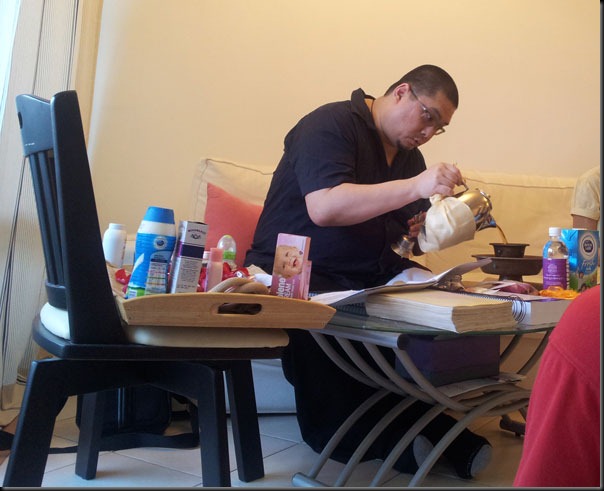 Rinpoche performing black tea for baby Tashi while the parents looked on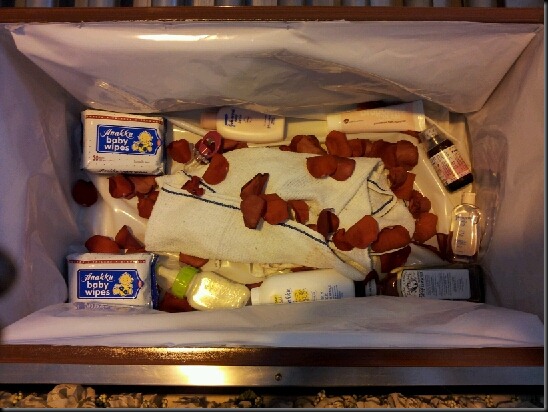 baby Tashi in casket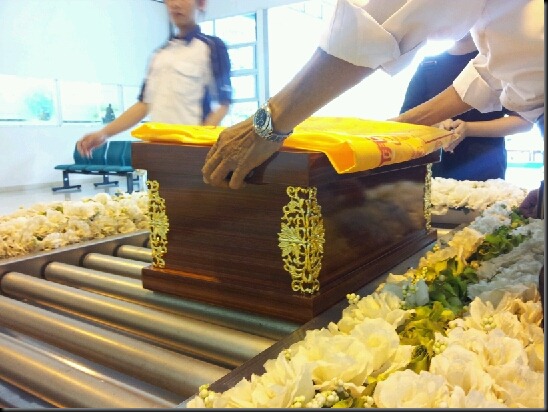 baby Tashi in casket
p/s Yesterday Dr Jiang came to treat Rinpoche, Rinpoche was having slight fever, heatiness and had a stye (eyelid bump) developed, Dr Jiang said these were caused by days of staying up late and not having enough rest. To Rinpoche, the suffering of his body is insignificant as compared to the suffering of others, which Rinpoche always places above his own suffering. This is a mental state of a truly great Bodhisattva.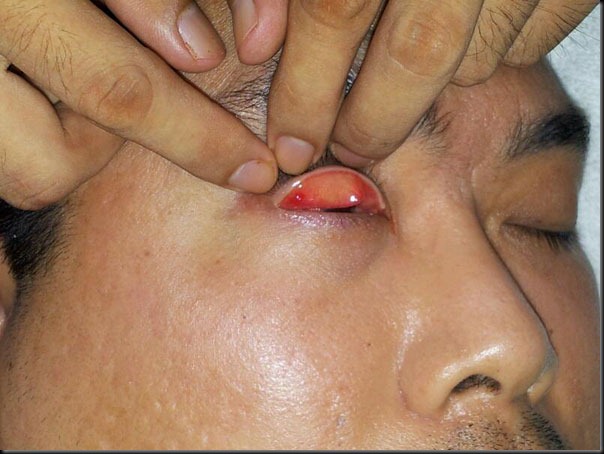 Rinpoche developed a stye of his eyelid due heatiness coming from days of not resting enough