by admin on Apr.30, 2012, under Tsem Tulku Rinpoche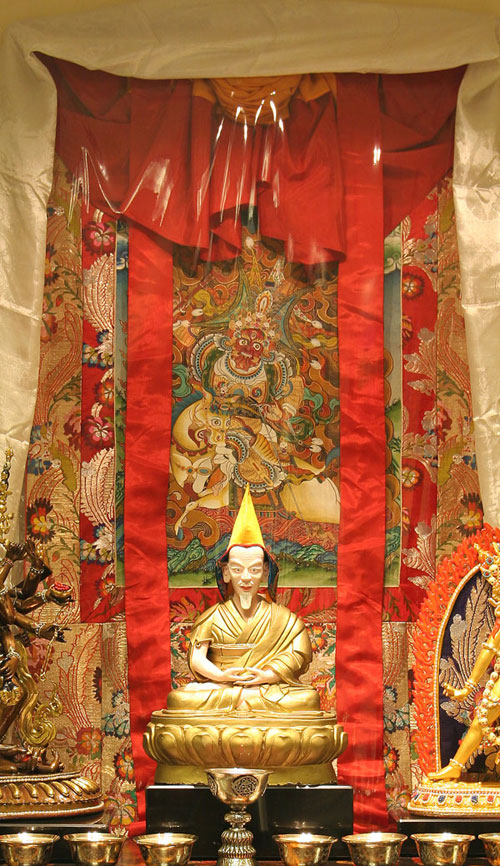 Since young until now, Tsem Tulku Rinpoche and Protector Setrap had a long and wonderful connection. Even a piece of Setrap's thangka is able to depict the relationship between Rinpoche and Setrap.Many years back, one of Rinpoche's students brought a piece of Setrap's thangka all the way from Gaden Monastery India to Malaysia as an offering to Tsem Rinpoche, who was teaching Dharma in Malaysia. Rinpoche was very happy when he received the thangka and instructed the thangka to be hung up in his room.
When the thangka was hung up, Rinpoche looked carefully at the thangka and commented that the thangka was very beautiful and sacred. Suddenly, the light in the room flickered three to four times, the students were scared, but Rinpoche became even more excited and instructed his students to prepare an impromptu Setrap puja. Only after that, his students understood that that was the signal sent by Setrap as a respect to Tsem Rinpoche. Setrap would like to express his honor of being brought all the way from India to accompany Rinpoche in spreading the Dharma. That was the 'living thangka of Setrap'. This experience was very unusual and could not have happened without great merits.
There was one time when Rinpoche was at Singapore teaching the Dharma, Rinpoche met a student with a Dato title together with his friends (Dato in Malaysia is a title honored by the King or Sultans). One of Dato's friends is an experienced 'Maoshan' master. This 'Maoshan' master felt uncomfortable and envious when Dato showed high respect towards Rinpoche and he was worried that Dato would not be sponsoring him further.
Frustrated and angry, this 'Maoshan' master invoked black magic to disturb Rinpoche. During that time, Rinpoche sometimes felt a huge black shadow surrounding him and realized that someone was doing black magic on him. Thus, Rinpoche asked Setrap on the 'living thangka' to solve this.
One day during an event at the Dharma centre, the Oracle suddenly took trance of Setrap, he showed a wrathful facial expression, and on one hand he was seen repeatedly grabbing something from the air and putting it into his mouth. He chewed hardly on the "things" that he placed into his mouth. The expression was very scary. It seemed like Setrap was catching and eating spirits sent by the 'Maoshan' master which was sent to disturb Rinpoche.
After the incident, Rinpoche did not bother to pursue this further. But after a few days, the 'Maoshan' master requested to meet up with Rinpoche with guilt. The compassionate Rinpoche knew every single detail about this beforehand but still was willing to meet him.
When the 'Maoshan' master was invited to take a seat, he picked the seat where the back of the chair was facing the 'living thangka' of Setrap. When he was about to sit down, suddenly it seemed he was pushed forward and fell down. When Rinpoche asked him what happened, he said someone pushed him from behind. But behind the chair it was only a wall where the 'living thangka' of Setrap was hung on.
The 'Maoshan' master told Rinpoche that his sister was infected with a weird sickness out of a sudden. She was unwell but the doctors were not able to diagnose the cause. Therefore he seeked Rinpoche's help, and compassionate Rinpoche advised the 'Maoshan' master to do Setrap puja. After a while,  the 'Maoshan' master's sister recovered.
That was a true story  that happened a few years ago.
It was found out later that when the spirit sent by the 'Maoshan' master failed to disturb Rinpoche, it went back trying to harm the 'Maoshan' master but was unsuccessful, so it went on the harm his sister instead.
Rinpoche always advises his students to practice Setrap in order to remove inner and outer obstacles in Dharma practice.
(note: there is nothing wrong with 'Maoshan' pratice, it is the person who used it wrongly)
click here to read more about Protector Setrap: http://blog.tsemtulku.com/tsem-tulku-rinpoche/kechara-13-depts/why-setrap-in-kechara.html