by admin on May.31, 2012, under Tsem Tulku Rinpoche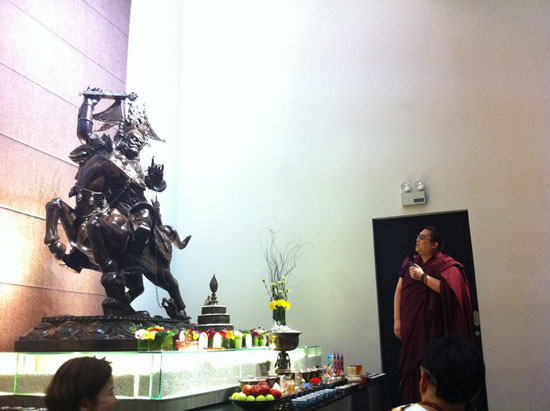 H.E. Tsem Rinpoche and Protector Setrap in Kechara House
Without a doubt, Dato' Eric Tan had a tough time during the first half of his life. Once a millionaire, he lost everything during the economic crisis. Overnight, over one hundred companies within his group closed down and everything was gone. Even so, his strong faith in his guru and protector helped him to start from zero all over again. Working step by step, today Dato Tan is a very successful businessman in the Malaysian real estate industry.
Dato' Tan admitted that without the help and guidance from H.E. Tsem Rinpoche and protector Lord Setrap, he cannot imagine how terrible his situation could have turned out, with the all the ups and downs he encountered over those few years. He is very grateful for Rinpoche and protector's support during the lowest tide in his life.
Guru and Protecto are One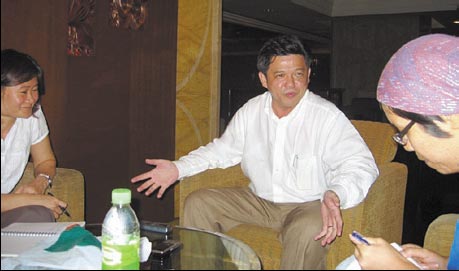 Dato' Tan is a busy man with his business, but he has very strong guru devotion and does his Lord Setrap practice daily without fail, no matter how packed his schedule is, even when he is overseas.
Even though time has passed by quickly over the last ten years, what Rinpoche and protector's advice to him has all come true. To him, this proves that Rinpoche is a really a living Buddha/Bodhisattva.
To Dato' Tan, both Rinpoche and the protector are one. He feels that Lord Setrap's manifestation is to comply with Rinpoche's requests. This is why he has made sure he is consistent with his practice, to achieve swift results. However, he knows that we as students should prioritize Rinpoche because without Rinpoche, our protector might as well not exist. Guru devotion and faith in Dharma is very crucial to ensure Lord Setrap's blessings.
Dato' Tan jokingly mentioned that it is very difficult to do Dharma work without financial support. As a businessman, he has promised to support and assist Rinpoche in spreading Dharma after Lord Setrap helped him through his toughest time.
Dato' Tan is very serious when talking about his experiences with Lord Setrap. After many years of practice, he describes his relationship with his protector as being like a close relationship with his mother. When Dato Tan prays to the protector, everything comes naturally as if he is calling his mother back home. When Lord Setrap manifested, he would have goosebumps on the left part of his body as if someone is standing on his left. It may sound as though Dato' is glorifying Setrap's power, but this is also what both Dato' Tan and his wife have experienced over the years.
Looking at the results of Dato' Tan's entrepreneurship, everything has gone accordingly to the protector's prediction. Having endured many experiences over the years, Dato' Tan has promised himself to be a good disciple and not to let his ignorance overtake devotion to his guru and protector because if he did that, every time the results were not positive for him. In this way, he has relented and will fulfil his guru's request at his level best.
He spoke about what happened during 1997. At the time, he tried to buy over a company with financial problems. He prayed to protector Setrap and mentioned that he could only bear losses up to 40million Singapore Dollars. If the amount exceeded, he himself would face a financial crisis. Fortunately, Dato' Tan managed to buy over the company and lost EXACTLY SGD40million. Dato' Tan revealed that without Lord Setrap's help, his loss would have been much greater. Thus, Dato' Tan began to believe in Lord Setrap's power.
In 1999, through divination, Rinpoche told Dato' Tan that he would be facing a huge financial crisis. Rinpoche advised him to forgo all of his companies at that time to ensure the crisis was just temporary, and told him he would get back everything in the near future. But Dato Tan was not willing to let go and ignored Rinpoche's advice. In 2000, Rinpoche's prediction came true, and Dato Tan's entire group of companies collapsed, and nothing could be done.
In 2004, Dato' Tan was helpless and sought for Rinpoche's help. Rinpoche advised Dato' Tan that he has two options for his businesses to recover. His first option was to go to Guang Zhou in China and start with an investment. The second option was to stay in Malaysia and start all over again in Melaka. Due to his long-term business developments in Singapore, Dato' Tan was not happy with these two options because the two places were not his preferred destinations.
Like a rebellious child, Dato' Tan insisted on staying in Singapore and as a result, his businesses did not recover. When he had almost reached his limit, one of his friends invited him to try his luck in Melaka, in a holiday resort project involving more than 500 chalets.
Dato' Tan secretly took up the project without informing Rinpoche and only told Rinpoche when the project was nearing completion. Upon knowing, Rinpoche told him that Lord Setrap manifested and hinted that he would lose this investment. At the same time Rinpoche also advised Dato' Tan's friend not to invest further but told him that it was advisable to lend money to Dato' Tan instead if he really wanted to help.
The protector's advice this time confused Dato' Tan because earlier, the protector given him the option of developing his career in Melaka. Reaching 80% completion on the project, he could not figure out why the project would fail. As predicted by Rinpoche however, Dato' Tan lost in his investment again because the bank loan was not approved. This incident again proved protector's extremely accurate predictions.
Dato' Tan was very disappointed but he still diligently continued with his daily practice. Facing the obstacles all the way, Dato' Tan managed to get a piece of land in Melaka in a most prominent location, and transformed it into a modern shopping mall, which is Dataran Pahlawan today. What he went through before this is really a blessing in disguise. Dato' Tan managed to get the protector's blessing on this piece of land and since then, his work has been free from obstacles.
Now that his troubles are gone, Dato' Tan's group of companies has been growing stronger. He recalls that Rinpoche told him during their first meeting that Dato' Tan will faced huge obstacles in his career but everything will be smooth later if he can overcome it. He did not believe it back then due to his strong financial standing but along the way, with all the obstacles he faced, he now strongly believes Rinpoche and protector's prediction.
He will never forget what Rinpoche told him: "If you truly believe protector 100%, then you will get 100%! If you believe protector 50%, then in return you will only get 50%! The concept is very simple and it is up to you to believe it or not!"
(translated by Sam Chiao Hong, edited by Khong Jean Ai)
Tsem Rinpoche with Dato' Eric Tan and wife in Kechara House where Rinpoche conducted Dato' Tan's son's wedding in March 2012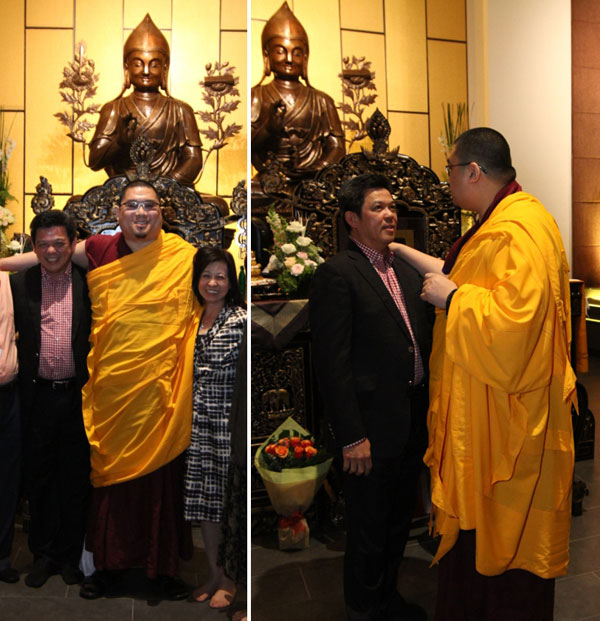 Rinpoche conducted Dato' Eric Tan's son's wedding in Kechara House in March 2012, with Protector Setrap looking on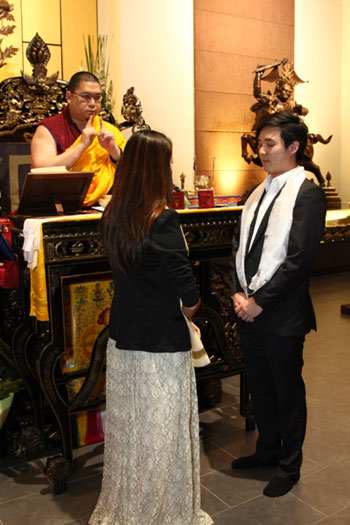 Dato' Eric Tan's achievement today: Dataran Pahlawan Shopping Mall in Melaka

Dato' Eric Tan's achievement today: Dataran Pahlawan Shopping Mall in Melaka

Another of Dato' Eric Tan's achievement today: Hatten Hotel in Melaka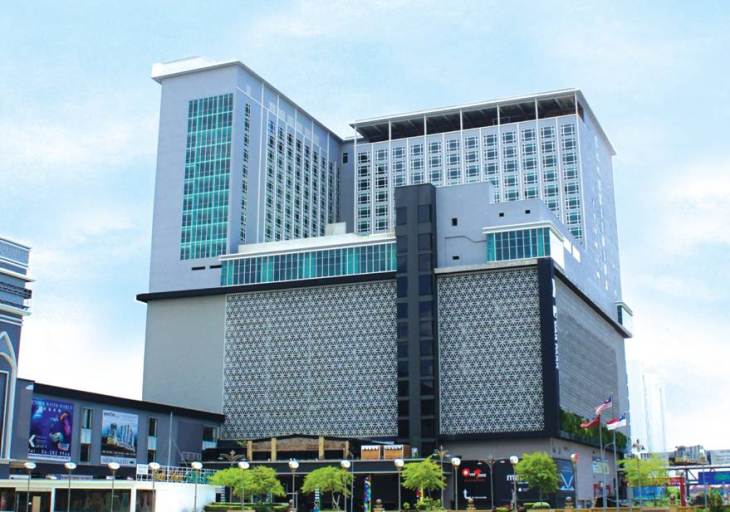 Dato' Eric Tan's latest project: Hatten City in Melaka

Dato' Eric Tan's son explaining to the press the Hatten City project in Melaka

Dato' Eric Tan and sons showcasing the Hatten City project

Dato' Eric Tan's latest project: Hatten City in Melaka (shown here is Melaka state's Chief Minister Datuk Seri Mohd Ali Rustam)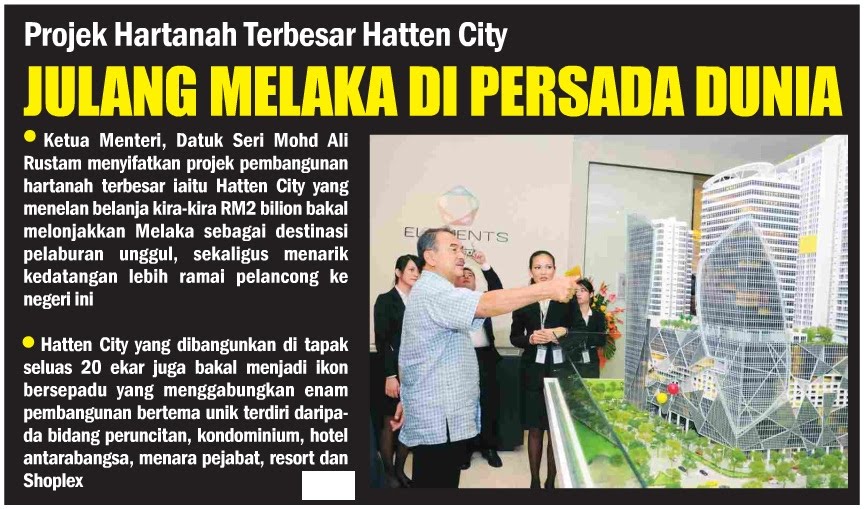 ______________________________
严格来说,拿督陈永发的前半段人生并不算顺遂。曾经坐拥亿万家产的他,一场金融风暴使他变得一无所有,掌管的百多家公司在一夜之间消失得无影无迹,整个集团面临倒闭。虽然如此,因着对上师和护法的坚定信念,他再次从零开始,一步步爬上来,今天的他,仍然在马来西亚的地产界叱吒风云。他承认这些年来的大起大落,如果没有得到上师詹杜固仁波切和金甲衣护法的扶助,他不敢想像那种糟糕的情形。所以他很欣慰在人生最低潮的时候,仁波切和护法在身边给他支持。回想起在一个机缘巧合下,拿督陈是由他的部属总经理的介绍而认识了詹杜固仁波切, 从此与金甲衣护法结缘,如今回首一看,他感叹十一年就这般过去了。
上师护法一体
拿督陈本身业务繁忙,但对于詹仁波切指示他每天要做的金甲衣护法仪规,却一天也不敢偷懒,再怎麽忙碌总会挤出时间来做金甲衣护法仪规,甚至出埠出国都不例外。
他说,十个年头匆匆过去,以前仁波切和护法对他说的一切,今天都实现了,证明仁波切是一位真正的活佛,更恰当地说是一位活菩萨。
对拿督陈来说,仁波切和护法是一体。他认为金甲衣会对他显灵,皆因顺应仁波切的指示,所以他要强调修持护法是快速达到效果,但我们身为学生的,却应以仁波切为先,因为没有仁波切就等于没有护法的存在,所以皈止上师的精神和对佛法的诚信,往往决定了金甲衣愿不愿显灵的关键点。
拿督陈开玩笑说,做法人事业,没有钱肯定行不通,身为生意人的他,即使在最困难的时期祈求金甲衣的帮忙,亦不会忘记答应护法一旦问题解决了,便刻不容缓地帮助上师的法人事业。
谈到金甲衣显灵的事迹,拿督陈很认真地说,经过了这麽多年的修持,他形容护法好像自己的老母亲般亲近,对祂再熟悉不过了,祈请祂时,好像挂一通电话给远在老家的母亲,不须要费周章立刻可以在电话按键上把号码按出来,当金甲衣护法降临时,他马上感觉到身体的左半边毛孔竖起,好像有一个人在你的左边站着。说起来似乎太神化了,拿督陈说这确实是他经历了多年的一个非常真实的感觉。最奇妙的是他太太也有同感呢。
细细回顾拿督陈创业的每一个过去,似乎都可以成为印证护法的预言,万无一失;经历了许多年的种种,他笑着说,以后要当一位乖学生,不会为了自我的膨胀而挑战上师或护法的指示,因为每次都让他败得很惨,所以今后他向上师投白旗,凡是上师的要求,他一定会尽力完成。
他续说,记得1997年间,他尝试收购财务出现问题的一间公司,为了不想亏损得太多,他祈求护法表示以他的能力只能亏损到四千万新币而已,若损失超过这个数额,他将会面对财务危机。说来真凑巧,最后那间公司转手到拿督陈的旗下时,准确的只让他亏了四千万新币。拿督陈透露,如果金甲衣不给予帮忙的话,估计他会损失更多。所以他说,金甲衣的神通绝对是非一般人可以预测的。
1999年间,仁波切通过占卜得悉拿督陈将会面临极大的财务问题,便劝导他要放弃手上掌管的所有公司,还保证暂时的失去,以后一定重得回所有之前失去的。可是当时的拿督陈不捨得,不愿意按照仁波切的话去做,结果仁波切一语成谶。接近2000年,拿督陈的整个集团垮掉了。那时的拿督陈欲哭无泪却已于事无补了。
他在2004年走投无路的时候,拿督陈只好再向詹仁波切求救,仁波切告诉拿督陈说,他只有两个翻身的地方,一是去中国的广州投资,二则到马来西亚的马六甲发展,长期在新加坡发展的他,对只有这两个地方可选择感到十分不畅快,因为这两个地方都不是他心水的发展基地。
因此像小学生带点叛逆性子的拿督陈坚持逗留在新加坡,虽然如此他的事业仍处在一筹莫展的窘局。在撑得快不行了的时候,有位朋友找他到马六甲发展,那是一个拥有五百间度假屋的海边度假胜地计画。
拿督陈说,他瞒着仁波切接了这项工程,到工程进行到一半的时候才向仁波切透露,谁知仁波切马上告诉他说护法提示这项投资会失败,还劝告拿督陈的朋友不可以加入股份,若要帮助拿督陈的话,借钱给他就好了。
这可把拿督陈搞煳涂了,便反问仁波切说护法不是要他到马六甲来发展吗?而且已经将近八十巴仙的房子卖了出去,怎可能会有不成功的道理?如詹仁波切所料,拿督陈这回又输了,因为贷款申请失败,所以这项投资也就告吹了,间接印证了护法的话绝不戏言。
拿督陈在这时候几近心灰意冷,但还是每天坚持做持修,偏偏奇蹟就在这时出现了,在转转折折的过程中,拿督陈竟然得到了坐落在马六甲黄金地带中央的土地──成了今天拿督陈所拥有的购物广场,人潮涌现,充满商机!正所谓塞翁失马焉知非福?对于这块地皮,这可是护法点头讚许的,拿督陈笑说守得云开见月明啊。
如今所有的霉气渐渐散去了,拿督陈的企业集团越做越起劲,这也是拿督陈第一次见仁波切时,仁波切对他说过的一番话,他的事业会面对一个很大的难关,若跨过去就会越来越好,当时资金充裕的他根本不相信,现在一路走来,经历了无数的挫折后,如今他对仁波切和护法的话深信不疑。
他说,这辈子忘不了仁波切对他说过的一句话:"如果你一百巴仙相信祂,那你得到的是一百巴仙!假如你只信祂五成半,那麽你的收穫也只有五成半!道理就这麽简单,信不信由你!"
(郭月谊 采访)